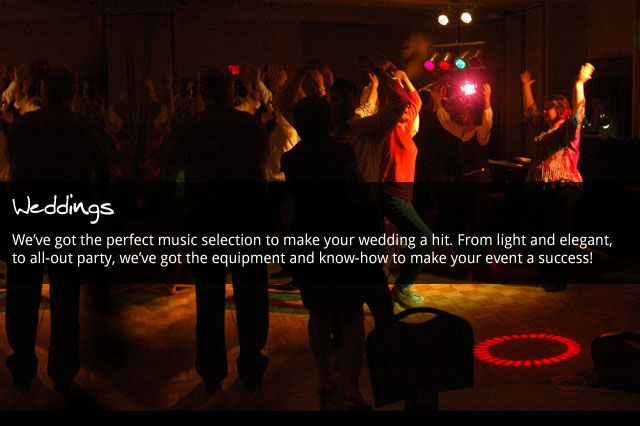 Home
Weddings
Ranging from small 100-seat venues, to huge dance halls, we have provided an awesome dance for many couples. We'll do what it takes to make your day special, and we don't steal the spotlight from you; after all, the day is all about YOU, and not the DJs.
We want you and your guests to have a great time, with great music and a great party atmosphere.
We pride ourselves at containing most of the loud music to the dance floor, which keeps the volume at a respectable level for the rest of your guests so they can enjoy themselves even if they're not out on the dance floor.
Our prices are all-inclusive. Dinner music is available, and a wireless microphone is always ready to go for those special toasts. Guest requests are always welcomed (although not guaranteed to play -- you should hear some of the requests we get!).
That being said, events have many variables -- day of the week, season, distance, etc. Because of this, like many DJs, we don't provide one-size-fits-all pricing. Call us today about your event!
Don't want some super-cheesy PowerPoint slideshow? Great -- neither do we! We've done lots of great wedding slideshows. Awesome ones, actually. Need a sample? Just ask!
In addition to the standard projected slideshow, we can do what we call a continuous slideshow, pictured to the left. This slideshow keeps looping throughout your reception, and your guests can watch as little or as much as they'd like to.
If you're having your ceremony outside, you're already worrying about plenty of things. Don't let the sound system be one of them.
Whether you just need a microphone for the officiant, or if you are planning on having instruments and singers, we've got just what you need to accommodate just about anything you can throw at us. Our goal is to make sure your audience can hear everything perfectly, and we've worked with soloists, guitarists, pianists, and even string quartets.
From small gardens to large gatherings, and regardless of whether your outdoor ceremony is at the same location as your reception, you can count on us to get everything set up and working perfectly.
Let Audioworks provide your outdoor wedding ceremony sound system so you don't have to worry!

Very pleased how everything worked out! Very accommodating! Went out of their way to make sure we had good sound at the ceremony, which was never discussed before they showed up at the wedding site! Very easy to work with! Played requests all night long, which was a top seller for me! Very outgoing! Loved everything about Audioworks! -Lisa