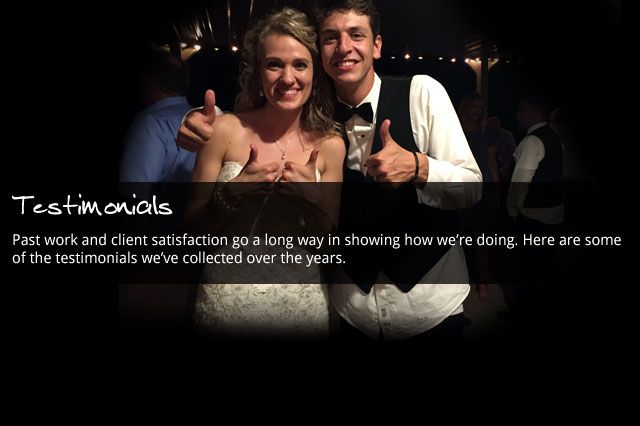 Home
Testimonials
Testimonials
Testimonials are one of the greatest influences we can provide to help portray our past work and clients' satisfaction. Below are a few of the comments & testimonials we've received.
Please note: We just recently started officially collecting testimonials, so this list should be growing very shortly!


Tyler and Brett did a fantastic job making us feel comfortable that they had a handle on what we wanted for our reception. I threw them plenty of curveballs at the reception and they handled it in stride. They converted videos and edited songs and went beyond any of our expectations. They had many helpful suggestions and were very open to any of our requests and requests made by our guests. I won't be losing their business card any time soon. If you find yourself not having a good time at an event they are at, that's your own fault. -Dan & Tatia

Excellent, professional and meets your needs! You won't feel pressured. Go to Audioworks with your ideas and it will happen! -Jennifer A.

Everything went so smoothly working with Audioworks! They were very kind and helpful in the preparation process. I felt confident on our day that everything concerning audio was taken care of. We'd use them for any event in the future, and certainly recommend them to anyone! -Ashley L.

Very pleased how everything worked out! Very accommodating! Went out of their way to make sure we had good sound at the ceremony, which was never discussed before they showed up at the wedding site! Very easy to work with! Played requests all night long, which was a top seller for me! Very outgoing! Loved everything about Audioworks! -Lisa M.

Audioworks has provided a wonderful sound system and lighting for our Maple River High School Relays For Life for a number of years now. Our RFL events are outside so the need for an exceptional sound system is a must and Audioworks filled the bill, so to speak. They have a great song catalog, huge speakers, microphones and a light display that is spectacular!!

Best of all however, is Brett and Tyler who really take pride in doing a professional job in whatever event they do. After the events we hear many comments about how wonderful the sound system was. I would highly recommend Audioworks for any party or event you might want to put on. -Jim Swanson, Mayor of Mapleton, MN

Audioworks was the perfect fit for our wedding. An excellent combination of class and fun. Our guests had a great time and we would definitely recommend them to anyone hosting any event. -Ty & Sarah

Audioworks DJ made our wedding perfect!! We had an outdoor wedding and right in the middle of the ceremony, we had to pack up everything because of rain. The guys set up the sound system [in the shelter] in minutes and we were back in business!

They also did the sound and music for our reception and we couldn't have asked for a better experience. They were open to any ideas we had and had a very good set of songs that got people dancing! They were so much fun to work with and I would recommend them to anyone looking for a professional, fun and stress-free wedding!!! -Tracey

Easy to work with. Open to requests. Played all the right music for our big small town wedding. Nice guys! -Alisa H.

We can't thank you enough for the great job you did at our wedding!!! Everything was perfect, and we had several people comment on how much they enjoyed the music. The dance floor was full the whole time, a testament to you being good at what you do. I know we had likely more song requests than you'd prefer, but thank you for listening to us and playing what we wanted. We couldn't have been happier, and have already referred some future business your way!

Thanks again! -Tara and Ian

Thank you for making the Superhero Dash event an enjoyable experience for all! We appreciate your continued support of the ALS association and the entire ALS community! -Ashley, Minneapolis ALS Association